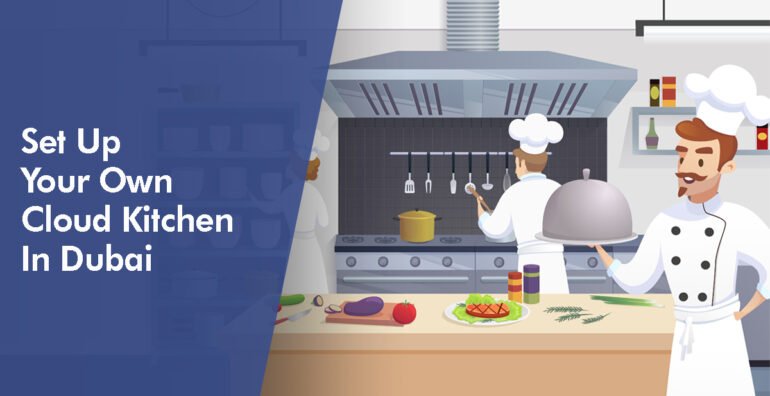 In 2019, cloud kitchen revenues in the UAE and Saudi Arabia leaped heights, making the most sought after business setup for aspiring investors and food entrepreneurs due to its ensured return of investment (ROI). Are you looking for a way to set up your very own cloud kitchen in Dubai? Check out our simple guide below:
What is a cloud kitchen?
A cloud kitchen is a new business model developed to cater small time and starting food businesses who are not ready yet to invest on its own full-fledged restaurant or physical store. It is a virtual kitchen with no dine-in feature and delivery-only protocol who can challenge the set standards of traditional restaurants as they can focus on solely developing the brand equity and producing high quality food for their customers.
The rise of e-commerce paved the way of cloud kitchens as society continues to delve in a more digital way of purchasing and entering the market. Cloud kitchens usually get the service of food delivery platforms such as UberEats, Deliveroo, and Talabat. They also set up a powerful online presence through websites, mobile apps, and social media platforms to capture their intended audience.
What are the benefits of setting up a cloud kitchen in Dubai?
Known for being the UAE's top growing economy, Dubai has become a hotspot for startups and SMEs to a diverse economic sector. Additionally, Dubai houses a variety of audiences and customers, with a significant 70% of consumers who prefer to buy food online. By targeting a
Business setup in Dubai has continued to develop throughout the years, encouraging investors to incorporate their businesses in the Emirate because of the following benefits:
Less tax: no corporate and personal tax required
Low cost setup: License packages available are flexible and cost-effective
Less infrastructure and manpower: no physical store required and less manpower needed to run your business.
Minimum requirements needed: documentary requirements are kept at a minimum
Wide network available: get the service of the best corporate service providers in the Emirate to boost your business
More room for growth and expansion: Take advantage of authority's assistance and learn from the healthy economic environment of Dubai
How do I set up my cloud kitchen in Dubai?
To jumpstart your cloud kitchen business in the UAE, consider the following steps:
Plan things out. Before jumping in the business, come up with a business plan detailing all your requirements and needed vision for your brand. This would mean the name of your brand, target budget and investment, partners (if any) and their responsibilities, market research, branding and marketing plan. Take time to finish this stage of your setup as this will greatly help you in the future especially during the incorporation proper.
Decide on your setup choice. To fully maximize the capacity of your cloud kitchen business, we recommend setting up your business in Dubai Mainland to enter the local market. With this, you would need to apply for a Trade License with Dubai Department of Economic Development and Food license approval and permit with the Dubai Food Safety Department. As this is a Mainland setup, you would need to get a local partner.
Complete your documentary requirements for your license. For a more efficient processing of your business license, completing your documents early in the incorporation process. This would avoid you from incurring any additional setup cost and process your application faster with the DED.
Get your license. Dubai Mainland setup is a quick and easy process. Bring your documents to selected service centers and pay the appropriate fee for your license cost.
Finalize your business needs. After getting your license, you may now finish your business setup by getting the most immediate corporate services for your company. For a cloud business, you may consider getting visas for you and dependents, office space if needed, financial services and bank account opening and management, website, mobile applications, and digital marketing development, and brand registration.
GET THE BEST BUSINESS SETUP CONSULTANT.
Business setup can sometimes be an intimidating process. To fully maneuver the incorporation process, getting a local agent like IBG Consulting will keep investors at ease as we work hard to assist you and fully commit ourselves to your vision. From start to finish, we will help you attain your business and investment goals.