The focused exhibition closes its doors with an upward trend in business, but the past two years have taken their toll.
Halfway into the Exhibition Season in the Health Sector, the UAE International Dental Conference and Arab Dental Exhibition has come to a close. With over 4,000 brands and 50,000 visitors, we have seen a vibrant event that, aside from the conference, workshops, exhibition and product showcases, hosted a section of direct trade and sales from both local and international manufacturers and distributors.
As is our practice, we surveyed exporting enterprises at the show and asked about their market presence, expectations and in-depth knowledge of their target segment. Their answers serve as a guideline to what international manufacturers are doing regarding distribution, specification, market reach and relative sell-out efforts.
While we only talked to companies that are either already exporting into the market or participating in the expo to find a distribution network, 47% of surveyed participants consider that a local representation would increase their sales by a minimum of 10%. Out of these, 64% are confident their sales would grow more than 30% per year. However, and in the same vein, nearly 40% of respondents seem to have no data to even assess how this would enhance their operations and revenue.
Perception of Sales Increase through own personnel
The lack of visibility shown on our previous graph is also evident when asking about what their competitors are doing to tackle the Middle East region, with nearly 14% being completely unaware of their activities, sales figures estimations or relative strength in the market. That said, the sector is dominated by international manufacturers as only 3% of exporters report having local manufacturing competition.
State of Competition
We also asked for a rough idea of their current sales into the Middle East. Nearly 40% of respondents report less than USD100,000 of yearly turnover, to which we can add 13% of those with sales figures under USD400,000. However, nearly 30% of surveyed are beyond the USD400k mark, and the lion share of them are well beyond the USD800,000 we set as upper limit. A further 20% were unwilling to share.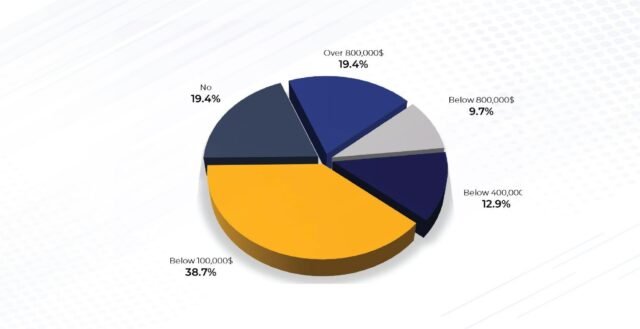 PLANS FOR THE FUTURE
As it is our custom, and IBG has a vested interest in this, we asked about their future plans regarding the Middle East. Unfortunately, 84% of respondents are not considering establishing themselves. We estimate that export figures and potential increases in total sales would support the bet of a local representation for 30% of currently exporting organizations. However, 84% of companies have no intention to do so, and 16% of them answered a noncommittal "maybe".
We can but report the data.
Getting a foothold into the Middle East. Is it time for you?