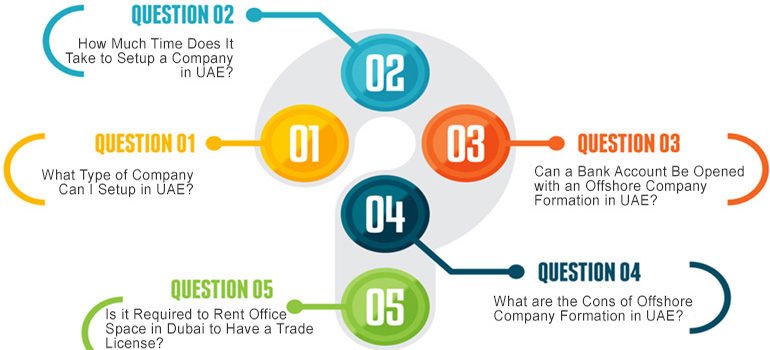 As an international business destination, Dubai is home to diversified business start-ups, offering increasing economy avenues for entrepreneurs and investors from different nations. UAE's business friendly policies and high quality infrastructure have allowed all types of business to bring their ideas and benefit from Dubai's innovation-based prospects through as multitude of opportunities.
While established organizations with preliminary experience in company setups across business hubs such as Singapore, UK, and Malaysia are accustomed to company formation in Dubai, newer businesses and entrepreneurs may find the process slightly challenging. Here are five answers to common questions raised by entry level businesses and SME's when establishing a business presence in Dubai.
What Type of Company Can I Setup in UAE?
Dubai offers almost every type of business to establish its foothold within a range of zones under certain jurisdictions. Businesses can benefit from several sectors such as engineering, oil and gas, retail, trade and logistics, tourism, education, hospitality, real estate and construction, advertising, market research, technology, media and entertainment, manufacturing, automotive, arts and much more.
How Much Time Does It Take to Setup a Company in UAE?
For Mainland LLC, the approval can be finalized within two days. However, officially acquiring a business trade license can take up to 2 weeks or more. On an average, it takes 6 days and 8 procedures for business setup in UAE, as per the latest World Bank report on Ease of Doing Business. Professional business consultancies offer tailored packages with complete A-Z setup solutions to minimize time factor by effectively reducing downtime. The period can also depend on other factors such as permissions required for a specific business activity, issuance of certificates from and other attestation procedures.
Can a Bank Account Be Opened with an Offshore Company Formation in UAE?
Offshore companies are the fastest modes of building a business presence in a foreign country. They are generally holding companies and incapable of carrying any commercial activity within UAE. Offshore companies offer ideally the most secure asset protection than any other business vehicle in UAE and come with several exclusive incentives and privacy benefits. Like every corporate entity in UAE, offshore companies can also open a bank account. However, to open a bank account the company CEO/Owner is required to prove his/her presence by visiting UAE for a day and signing all legal documents to verify and legitimize the company.
What are the Cons of Offshore Company Formation in UAE?
Although there are no general disadvantages associated with the functionality of an Offshore company, there are some specific cons that limit an offshore company's access and operations to a shorter business spectrum, as mentioned below.
The owner of the company cannot have a work or residence visa
The company cannot perform any operations and only invoicing is possible.
The company will not be able to trade within UAE
The company cannot rent local premises in UAE
Is it Required to Rent Office Space in Dubai to Have a Trade License?
For a mainland LLC (Limited Liability Company), office space requirement becomes necessary as defined by DED (Department of Economic Development) , The authoritative body for business setup in Dubai, which has clearly stated that a business must prove its legitimacy through a rented/leased office space in UAE.
However, if the business jurisdiction is Offshore, or the company chooses a freezone setup with a virtual office plan, a physical presence/office space can be voided. In these cases, an office space, warehouse space, or development land will not be required.
Let Us Resolve All your Business Setup Queries and get your Business Up & Running
IBG Consulting middle east is one amongst the leading business setup service providers in UAE. We offer complete business assistance to establish your Mainland, Freezone and Offshore company in Dubai. Our consultants carefully understand your business perspective and contemplate with your commercial situation to offer you the best solution in the market. For further details on any questions that you may have regarding business setup in Dubai, please check out the IBG Knowledge Hub on our website for better information. The below links will hopefully resolve your queries and help you on your company formation journey.
http://ibgme.ae/faq/ | http://ibgme.ae/blog/