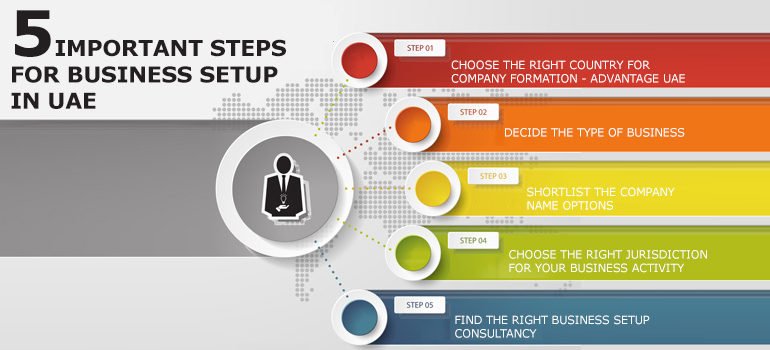 In recent years, UAE has made a significant improvement in its economic freedom score, outperforming world's major economies like the UK on 12th, Luxembourg on 14th and the US on 17th. Compared to 2013's 28th position, UAE now sits on 8th spot on the global Economic Freedom index 2017, jumping 20 positions in just four years.
Choosing the right country for company formation – how lucrative is UAE's Economic landscape for Starting a Business?
Dubai, as the largest and most populous city in UAE, has a distinguished track record of attracting businesses from around the world, with its stable political composition, and strategic location. UAE's latest milestone, winning the hosting rights for 2020 Expo is nothing short of a world-class accomplishment in its economic history. UAE will be the first nation to host Expo 2020 in the Middle East & North Africa (MENA) region. Starting a business in UAE allows entrepreneurs and investors to propel their business growth and foster long lasting collaborations with other business communities while inspiring the next generation of business leaders and innovators. There are a few important decisions to be made while starting your business in UAE as given below.
Deciding the Type of Business
Choosing the type of business determines the type of license a company requires and the jurisdiction that will suit it best. The basis of your operations closely defines the scale of business and its preferred vehicle. It can be commercial, professional, industrial or tourism which will later be classified into jurisdictions that offer the best solutions for the chosen business activity. You can choose from a list of over 2100 activities set by the Department of Economic Development (DED) in Dubai alone.
Shortlisting the Company Name options
Electing a company name that reflects the right business characteristics is imperative. Business setups must decide on a brand name that indicates nature of the business and sticks in the memory while conveying its values and company motives. An ideal company name must also abide by UAE's intellectual property laws. A good company name legitimizes the presence of the organization and gives a platform to initiate brand marketing strategies.
Choosing the Right Jurisdiction for your Business Activity
The business jurisdiction matters immensely in making a financially sound and operationally suitable business decision that fits the company's goals. Each jurisdiction out of the major 3 in UAE is designed to support a certain group of business activities. These jurisdictions are Mainland/Onshore, Freezone, and Offshore. Each zone offers distinct advantages even within the same type of zone, here are the primary features of the 3 zones.
Mainland LLC
Complete operating rights within the country
100% Tax-Free Status
Requires establishment of a physical office within the country
UAE residents as shareholders 51%
Freezone
Can operate within free zone boundaries
Can operate in UAE through a distribution partner
100% import and export tax exemptions
100% repatriation of capital and profits,
100% foreign ownership
Offshore
For companies seeking to operate outside their country
Fastest Incorporation process
100% Tax-Free Status
No requirement of physical office within the country
100% foreign ownership
How to Find the right Business Consultancy Agency?
Business consultancy agencies offer professional company formation services by undertaking all the tasks of the process such as visa procurement, registration, licensing, office setup, resource management and other legal paperwork within the stipulated time frame. Entrepreneurs and new companies opt for complete business setup solutions by professionals to avoid cost overheads, secure a strong foothold in the region and get expert advice to initiate smooth business operations. Finding a qualified and trustworthy consultancy firm requires thorough research on its track record, client feedback, service features and money back policies.
Online
Electronic media and online channels can significantly facilitate the search for the right company formation specialist, as it gives access to almost every essential detail necessary for selecting a reliable business setup partner.
Offline
Traditional offline media such as print media including magazines, newspapers, billboards, television, and radio are also popular streams that a few of the business consultancy agencies use to advertise their services.
How can IBG Help with your Company Formation?
IBG Consulting has setup over 200 companies in UAE through its benchmark company formation services provided to clients from all over the world. We operate across all UAE jurisdictions including Free zones, Offshore and Mainland companies with the best technology, innovation, and pricing framework that promises momentum for growth and recognition in the market.