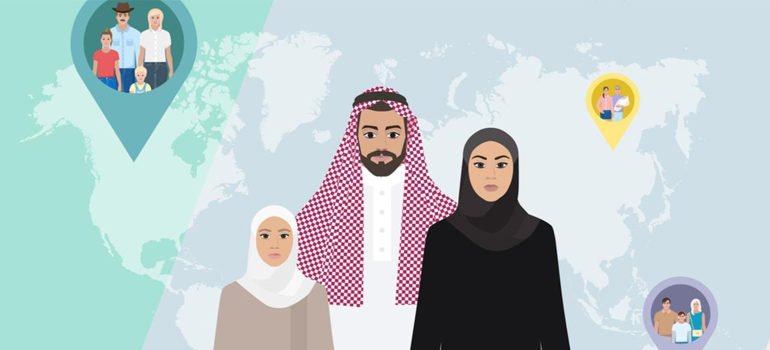 UAE's progressive business environment helps millions of foreign nationals with employment and investment opportunities. As an industrial hub and a renowned tourist destination, Dubai's expat community has been growing year on year. To accommodate such a diverse foreign community, UAE's government has taken certain measures to ensure the safety and prosperity of expatriates. One of the facilities it has provided is Family Visa which allows the employee/investor's dependents to migrate to UAE and live as residents.
Visa types (Investor Visa / Employment visa) Required to Sponsor your Family
Investor visa and Employment visa are two common types of visas granted to expatriates in UAE. The applicant must have either of the two to gain eligibility for sponsoring his/her family.
In case of employment Visa, the Ministry of Labor and Social Affairs will authorize all documents of the expatriate before sending it to the Immigration department (in mainland setup). Freezone company employees can sponsor family without ministry of labor's permit.
Investors visas are granted to entrepreneurs and have a limit of up to 3 years. To bring family into the UAE, the investor is required to stay in the country or return within six months after leaving. If these conditions are not met, then a renewal will be put in order to re-enter UAE.
Entry Permit for Family Members
UAE's entry permit requirements are quite simple. The entry Permit AKA 'Pink Visa', allows the dependent to enter UAE and pursue for a residency visa. The following shows the documentation and fees required when acquiring entry permit for family members.
Documentation & Fees
Visit Department of Naturalization and Residency Dubai (DNRD) for entry permit application
Applicant must submit completed entry permit application to the immigration department
Latest passports of dependents with at least six months' validity
Passport size photographs of dependents with white background.
Salary certificate and original contract of employment
Tenancy contract and bank statement of 3 months
Spouse
Legally translated and attested marriage certificate – original and copy
Minimum monthly salary must be AED 4000 or AED 3000+ accommodation in case of spouse
Children
Original and copy of birth certificate of the child
In case of daughter over 18 years of age, the applicant must provide attested statement testifying her marital status
Parents
Original passport copies of both parents and passport sized photograph in white background
Proof if parents are divorced or one is deceased
Min monthly salary of AED 20,000 or AED 19,000+ accommodation in case of parents
Proof declaring you are their sole provider
Residence Visas for Family
Residence visa is the next step after the dependent has entered the country. The applicant must submit almost the same documents for the residence visa process to start, so bringing extra copies is clever way to do it. Aside from the documents already mentioned above, here are the additional documents the dependent must have.
Show entry permit (Pink Visa)
Application form signed by the dependent and the sponsor
Original passport and of the dependent and sponsor
3 passport size photos in white background of each dependent
Original and Copy of residence visa of the sponsor
Medical fitness certificate/Health card of each dependent
Health insurance certificate of each dependent
Labor card and original Emirates ID card
Important Facts About Certain Family Visas
Under specific cases, the UAE govt. grants certain incentives to dependents
Teachers, imams, and bus drivers for educational institutions are exempted from bank deposit
Wife can sponsor her husband and children in the UAE by meeting the same requirements as an employed man (for teacher, engineer, doctor, or position related to the medical sector)
Sons can be sponsored by parents up until the age of 21 (enrolled at college)
Daughters can be sponsored by parents as long as they are unmarried
For New Born Baby
Having a new born baby in UAE requires residence visa which must be secured within 120 days of birth. Since there are time limits, the parents must plan ahead and start with the process beforehand to avoid AED.100 AED fine for each additional day after the 120-day grace period.
Complete application form of the baby
Original passport of the baby and 3 passport sized photos
Original and copy of baby's birth certificate – attested by Ministry of Foreign Affairs UAE
Attested marriage certificate
Sponsor's passport copy
Sponsor's employment contract and salary certificate copy
After submitting the documents at the local GDRFA, the stamped passport will be mailed to the sponsor.
Domestic Worker Visa
Maid/nanny are domestic workers sponsored by families and mothers with children in UAE (bachelors cannot sponsor female nannies). To get their residence visa, the sponsor must complete a number of documents and submit them to the local GDRFA.
Domestic worker's residence permit
Medical Fitness Report (after entering UAE)
Attested salary certificate and employment contract of sponsor – in Arabic
Sponsor's original passport
Maid's passport with 3 passport size photos in white background
Attestation from consulate for non-relationship with maid
How can IBG help with your family visa needs?
IBG Consulting is a company formation specialist that offers corporate and administrative solutions to businesses all over the world. With a certified track record of top quality PRO and Visa services, we help our clients stay on top of all requirements through professional personnel trained through years of experience in the industry. With our history of satisfied clients, transparent operations, optimum levels of confidentiality and tailored solutions are the benchmark of modern PRO services.