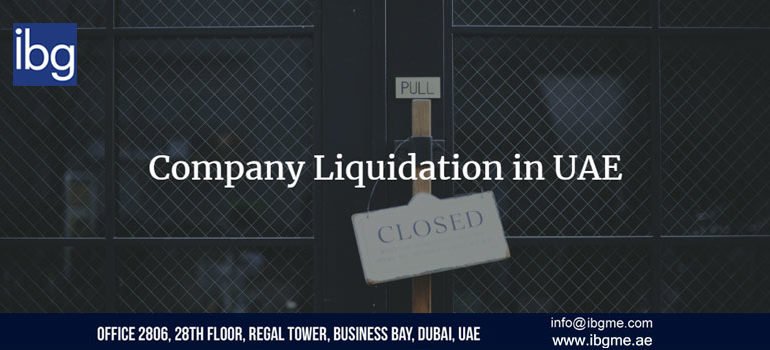 In every company lifecycle there comes an inevitable stage when the liabilities start overweighing the profits and business transactions become to stagnate. At this point, it becomes necessary for the company ownership to windup or dissolve its corporate assets and discharge all company liabilities towards creditors and partners in order to protect personal interests and shares.
What is Company Liquidation
Company liquidation is a facility offered by the host country, state or zone, allowing a business to systematically wind up its corporate institution by deregistering its license, liquidating its assets and distributing them to shareholders, creditors, and legal parties, thereby avoiding any accumulated fines, penalties or retaliatory procedures incurred upon the company's license. There are two case scenarios in company liquidation, voluntary and compulsory.
In most cases, the company becomes insolvent when it exhausts its administrative or financial pool to further conduct business operations in UAE and earn profits. During this stage, the company owner and shareholders unanimously agree to dissolve the company by passing a resolution, declaring the dissolution of the company. The resolution meeting must be attended by all stakeholders and a liquidation agent will be elected.
Compulsory or Forced Liquidation
The second form of company liquidation involves legal action, where the legislature issues court orders to dissolve the corporate institution. This usually follows when the company owner refuses to cooperate or the creditors pursue by legal means. During this process an appointee from the court is assigned to review the company's insolvency status and audit its assets. Once the audit has been completed the officer will liquidate the assets and distribute them between creditors and other lawful parties.
Company Liquidation Process
When the company is deregistered and dissolves, its trade name is struck off from UAE's Trade Register and the license is revoked to prevent it from trading any further. However, if any formal insolvency procedure is pending or already in place, the company will become ineligible for dissolution. The liquidation process follows these steps given below in brief:
The legal documents are prepared and sent to the concerned departments and legislative bodies for approval. The documents include company's General Assembly resolution letter, certified copy of signatures from the owner and company directors, copies of valid passports and Emirates IDs of Stakeholders, company trade license and certificate of registration, attested dissolution letter by the notary public and copy of liquidator's license.
The respective free zone or DED (for mainland LLC) is notified to initiate dissolution of the company while liquidator liaises with the concerned departments for cancellation of license.
To openly declare company dissolutions, newspaper advertisement in two local Arabic newspapers is published for 45 days. During this period, the liquidator's no objection statement is also produced.
All necessary documents are submitted such as clearance letter from DEWA, clearance letter from Etisalat, clearance letter from Municipality, clearance letter from Custom, Liquidator and Partners NOC, Bank No liability certificate and Liquidation report
The payment of prescribed fees and all related charges will be cleared by the free zone authority or the DED in case of LLC liquidation. The
Issuance of Deregistration Certificate
Once the documents are cleared and the fee has been paid, the authority or DED will issue certificate of deregistration to the company and its name will be erased from UAE's trade registry.
Benefits of Company Liquidation in UAE
Company liquidation is an excellent facility for insolvent companies to write-off their un secure debts and turn a new leaf in UAE. With the World Expo 2020 just around the corner, the facility will help rehabilitate many business setups in UAE with various benefits.
Allows personal wealth of business owners and stakeholder to remain secure
The company liquidation process does not require the presence of owner or business partners
Prevents the creditors in pursuing the owner or levying of any penalties or fines
Serves as legal action against rogue companies involved in criminal offenses such as fraud, counterfeiting, identity theft, illegal practices and other malicious activities prohibited in UAE
Gives foreign business owners roll-back option in case the venture fails to meet expectations
How IBG Can Help
IBG provides Trade License Cancellation services, in-house and through its wide network of partners, which will help numerous businesses in UAE's different jurisdictions in finalizing their exit strategy and neutralizing any liabilities before deregistration. IBG Consulting will help insolvent companies to legitimately close their operations and enable them to re-invest and restart their business journey through premier company formation services. IBG creates a professional atmosphere for voluntary liquidation by helping shareholders/directors arrange a meeting and appoint liquidation agent that represents the company to the public and court. Meet our experts today or visit https://ibgme.ae/company-liquidation/ to know more about company liquidation.