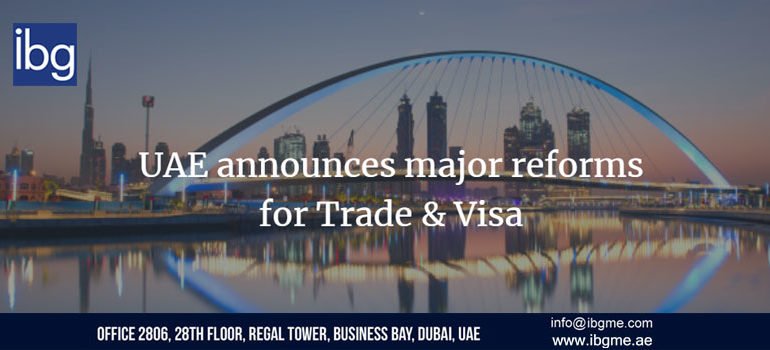 The UAE government recently approved a number of reforms concerning various agendas of UAE immigration, trade and welfare policies. The new reforms will further help in improving the viability of Doing Business in Dubai and will significantly upgrade the welfare of private sector workers while giving incentive to overburdened employers in numerous spheres.
The Dubai Department of Economic Development (DED) announced an exemption from fines related to late business license renewals for companies based in Dubai in order to help the business sector in Dubai further improve their competitiveness.
The other recent announcements were related to private sector employees, replacing their bank guarantee system of AED 3,000 deposit per worker with a relatively low-cost insurance scheme. With the new scheme in place, the cost of doing business in UAE will be further lowered as AED 14 billion will be released back to the private sector companies allowing many new ventures to take birth.
The UAE Cabinet introduced a number of strategic reforms involving foreign workers' insurance in private sector and visa facilitations offered to them. The new insurance scheme costs only Dh60 annually per worker and will cover all the rights and entitlement of expat prospects. This includes employee service benefits, overtime allowance, vacation fund, unpaid wages, return ticket and medical insurance coverage of AED 20,000 in case of injury.
The Cabinet also approved visa facilities for visitors, residents, families, and expats in a new legislative package which will allow an immediate two-year extension to the dependents' residency period in case of overstay after finishing university studies.
For transit passengers, the Cabinet approved the decision to allow bypassing of all entry fees for the first 48 hours, extendable to 96 hours against a fee of AED 50. A number of express counters at the passport-control hall will facilitate the obtaining of transit visa across UAE airports.
Another series of decisions adopted by the Cabinet included facilitations for overstaying expats, 6-Month UAE Visa for job seekers overstaying their period, workshops for getting exposure in the job market, no visa processing fee for renewal and clean exit strategy for illegal immigrants.
In Regulatory Affairs, decisions that met the Cabinets approval included hosting of Asian Paralympic Committee headquarters in UAE, agreement on the mutual exemption of visa requirements between Citizens of UAE and the Russian Federation, agreement granting special privileges to official Expo 2020 participants between the government of UAE and International Exhibitions Bureau, agreement on air transport services between government of UAE and Republic of Guinea and Federation of Saint Kitts and Nevis. In the same context, the government of UAE also endorsed a number of agreements to protect foreign investor's interests and provide evasion from taxation with the governments of Rwanda, Uganda, Columbia, KSA, and Turkmenistan. These new reforms will give momentum to a stronger administrative machine and further improve UAE's outlook as a land of opportunities.