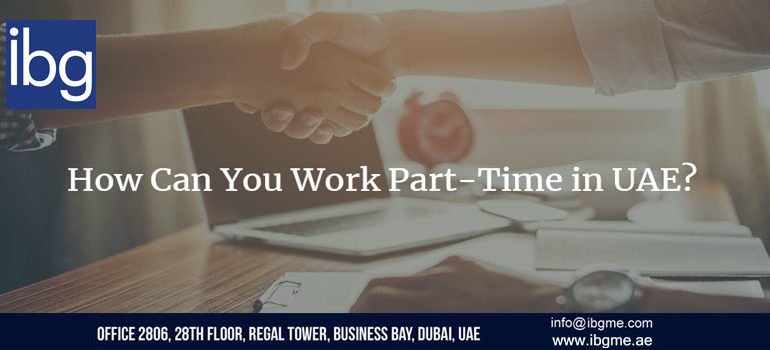 UAE's accelerating progress in business setup industry has opened numerous opportunities for expats seeking part-time employment. Expats employed in UAE are eligible to work for part-time jobs by acquiring his/her work permit issued by the Ministry of Labor, now MOHRE (Ministry of Human Resources & Emiratisation). This allows the expat to remain employed in the current organization and also pursue his passion with other projects.
Here are some 7 important facts every expat must know before applying.
Work Permit Eligibility
As an employed individual above 18, it is vital that the employer is registered with MOHRE for obtaining the part-time work permit. Those individuals who are under ages between 15-18 years can apply through parents acting as work sponsors.
Work Permit Restrictions
There are 2 conditions where an individual is prohibited to work as part-time. First, if the person has entered the Emirates through tourist or visit visa, or if the resident's age is above 65. In case of tourist or visit visa, the expat cannot work since he/she does not hold father, husband, or employer as legal sponsor in the country.
Part-Time Employer NOC
To work as part time employee, the person must produce a No Objection Certificate (NOC) from the currently/full-time employee registered with the MOHRE. The applicant's residency must be valid for at least 6 months. In other cases, where there is no employer involved and the individual is sponsored by family, a NOC is required from father or husband.
Prospective Employer NOC
The Ministry or Labor also necessitates the part-time employer to issue an NOC, keeping all the concerned parties aware of the current work status of the employee.
Permit for Business Sector
The work permit issued by Ministry of Labour or MOHRE is void for business or trading activities. All such pursuits are processed through designated channels for documentation approval and UAE business licensing. This permit only covers residents who want to work for companies registered with the MOHRE.
Work Permit Process and Cost
The process of the application and the cost is handled by the part-time employer. This involves collecting all the NOCs and applying for work permit. Exclusive of the Tasheel processing fee, the prospective employer will pay AED 100 and another AED 500 for the application and permit respectively.
Online Procedure
To facilitate expats in pursuit of part-time employment, the official MOHRE website allows online application submission through employers or Tasheel centers.
Period of Validity
The work permit is valid for six months after date of issuance. Expats can address all their queries to MOHRE which will guide them every step of the process. Expats can also seek services from UAE Recruitment agencies for job vacancies.