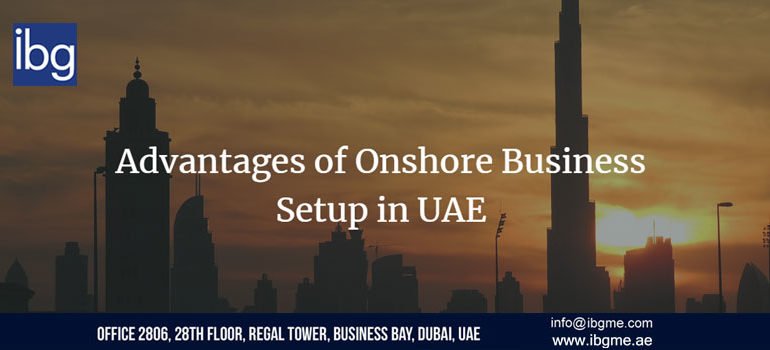 The United Arab Emirates offers great prospects for foreign investors, boasting minimal taxation, an organized property market, growing GDP, political stability and specialized jurisdictions protected by the legislation. UAE's exemplary economic prosperity has been a springboard for the business setup industry, helping achieve record high FDI each year.
While many corporations seek international market access to proliferate their business presence, others prefer expanding on local domains and concentrate their sales in a centralized ecosystem. UAE offers lucrative company formation solutions to cater the specific needs of foreign investors in the country. One of its structures is onshore company formation.
Onshore Company
For many foreign businesses, onshore jurisdictions are a fast, sound and hassle-free solution to building brand presence in UAE and freely practice business in the local market. Other businesses prefer onshore areas over free zones to set up their headquarters as a mainland LLC company and choose from DED's list of diverse business activities.
Mainland LLC Formation
Mainland LLC company formation is a traditional route to operate outside of mandated free zones and all across the local markets of UAE. The foreign investor is obligated by law to partner with a UAE or GCC national to incorporate the company. In a typical LLC formation, the foreign investor holds 49% of the company's shares while the UAE national is entitled to the remaining majority 51% shares.
Shares are not necessarily split in the same percentage and under unique cases, the sponsor can stipulate a different ratio in the MOA. However, the UAE national does not practice authority over the company's day-to-day legal, financial or administrative matters, rendering full control to the foreign investor. The UAE national gets a yearly fixed fee, which is usually predetermined by the contract certified by the court.
The UAE Cabinet recently approved 100% foreign ownership of UAE based companies to be implemented by the end of 2018. This announcement will further boost business investment in the country and provide an ideal business setup choice for innovative technology-based companies.
The major advantages of an onshore LLC setup as the way forward for doing business in UAE are as mentioned below.
Access to Local Markets
With the right business activity, an onshore company enjoys exposure to broader market within UAE, helping it foster a higher percentage of prospects.
No Personal Liability
Aside from unrestricted direct trade with the local market, onshore company owners are privileged to limited liability, shielding their personal assets from legal or financial instability.
Office Space Provisions
Dubai is a great destination for serviced office options which are available in flexible payment plans with pre-setup facilities, furnished interiors and added peripherals required in daily office tasks.
Unlimited Visas
As a mainland company, there are almost no nationality restrictions or limitations on the number of visas. However, the number of visas may scale from the size of the office leased.
Tax Exemption Benefits
An onshore company structure benefits from preferential tax treatment. A typical UAE onshore setup holds the advantage of 100% corporate and personal income tax exemption with 100% repatriation of capital and profits and free transfer of funds.
Easy Recruitment
Onshore areas in UAE such as Dubai sustain amalgam of diverse expat nationalities, exposing employers to an abundance of high-quality professionals with domain-specific expertise.
Business Activities
DED offers over 2000 unique activities for investors to choose from, covering diverse sectors and offering classified trade opportunities through commercial, industrial, or professional licenses.
Ownership Flexibility
LLCs are entitled with pass-through taxation exclusive of any restrictions on the type or number of owners, allowing owners to partner with foreign shareholders as well as corporations.
How IBG Can Help
As IBG Consultants we help embody your business ambitions through professional guidance and executive support, building the best onshore company structure that suits your business model. By taking your requirements we develop the most cost-effective, versatile and full-featured company setup solutions that represent your corporate goals.