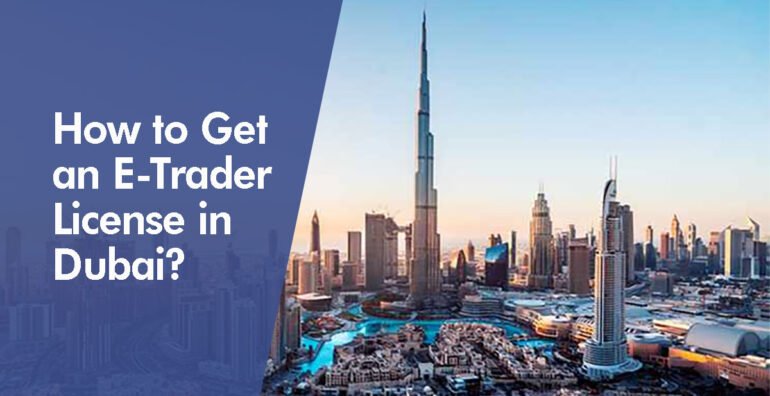 In the UAE, it is a prerequisite for businesses in the mainland jurisdiction that the majority of shares (or 51% of the total shares) are owned by UAE or GCC Nationals (Nationalities of member countries of Gulf Cooperation Councils).
Among the offered Trade licenses in Dubai is called the E-license, which aimed to ease up license acquisition within the jurisdiction.
In 2018, the policy involving foreign ownership with the E-Trader license loosened, allowing expatriates to own mainland companies with professional and service activities in Dubai.
What Is An E-Trader License?
Also known as the DED Trader, Trader License, and Merchant License, the E-Trader license in Dubai is an initiative by the Department of Economic Development (DED) which allows Foreign Nationals to conduct professional and service business activities within Dubai Mainland.
The license, which was launched in 2017, received an overwhelming response especially to the online market. It allows online businesses to prosper in Dubai without superficial fees and a need for an office space.
Who Can Avail An E-Trader License?
As of late, all nationalities may become an E-Trader License in Dubai. However, this will be subject to the DED's approval.
He/She must also be aged 21 years old and above, and an Emirates ID holder.
What Are The Benefits Of An E-Trader License?
Like a freelancing permit, the E-Trader License allows professionals to promote their specialized services online. The E-Trader can lawfully perform his/her business functions and activities within Dubai Mainland, safeguarding both him/her as a practitioner and his target consumers.
This license is perfect for single-owned businesses. It gives him/her rights on his/her registered trade name. Within the comfort of your own home, you may legally form your business without having to think about additional fees in starting a business in Dubai.
It must be noted though, that the E-Trader License only allows UAE and GCC Nationals to conduct commercial activities within the Emirate. Meaning, they can sell their products online. Foreign traders, however, may only offer specialized services based on their professions.
What Are The Steps In Acquiring The E-Trader License?
Prepare the needed documents:
● Trade name reservation.
● Emirates ID.
Accomplish application in the DED.
● Pay the corresponding amount for your license.
● Provide your business' social media account.
License processing for the E-Trader often takes two to three days, depending on the documents you have provided.
How Can IBG Consulting Help You?
Acquiring your license is often a stressful process. We, in IBG Consulting, aim to help ease your worries in dealing with the document preparation and application processes.
Armed with years of experience and a dedicated team, IBG Consulting guides and supports investors setting up their businesses in the UAE. We provide reliable support by helping you with your company registration and documentation. It gives you a chance to think about the things that truly matter – building your empire with the UAE.
Contact us now for a free consultation.