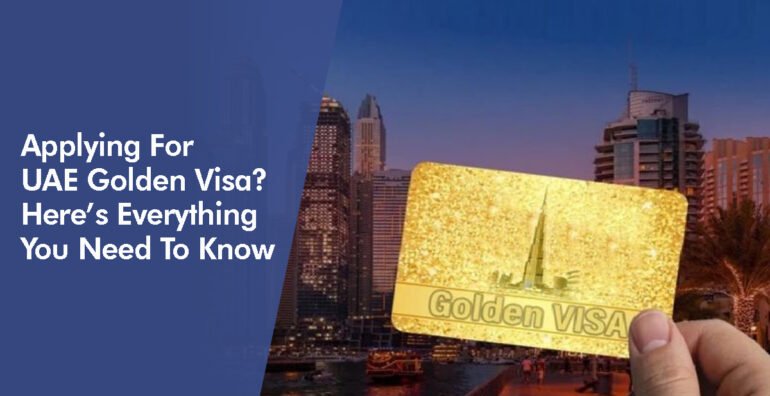 Living in the UAE brings numerous perks that one can surely enjoy by all means. However, most people are looking for long-term residence visas in the UAE. Most recently, the UAE government has allowed Golden Visas to doctors that have worked strenuously for protecting those affected by the COVID pandemic.
It's not the first time the government has bestowed this prestigious opportunity. However, you'd need to know what the hype regarding Golden visa is about. Here's everything you need to know about it:
What is UAE Golden Visa?
The government of the UAE introduced Golden Visa in 2019. It was to ensure that foreigners in the country are offered a chance of having a sustainable lifestyle for several years. Therefore, it started issuing Golden Visas to those that were eligible as per the requirements stated by the law.
The Golden Visa not only brings a privileged status quo but also brings numerous perks for those receiving it. When it comes to business visa for entrepreneurs or professionals, having a Golden Visa can surely remove many barriers in getting things done.
In other words, it's a long-term residence visa, granted by the UAE government to those offering investment or showing outstanding performance in their profession.
Conditions For UAE Golden Visa Eligibility
The standard Golden Visa is given for 10 years particularly for investors. One can also apply for a 5 year and 2 year Golden Visa. This is particularly for entrepreneurs, students, and professionals that need to visit UAE for their needs. As per the law, the UAE government grants the Golden Visa to several personalities. These include the following:
INVESTORS
As evident, investors can be some of the most influential parts of any economy. They not only bring investment from their capital but also elevate the standards of the economy. This also invites foreigners to make investments looking at the growing market.
For investors to be eligible, they need to invest at least AED 10 Million. This should be done via investment funds in the country or by providing capital to any organization. Investors can also partner with existing companies, old or new.
Apart from that, those that are applying for a 5-year Golden Visa will have to invest at least AED 5 million. Moreover, the amount invested should not be loaned and the investment must be held for at least 3 years.
SPECIALIZED TALENTS
Here, talents represent important professions that play a key role in shaping any economy. This includes but is not limited to doctors, scientists, and inventors as well as creative personnel that is playing a role in culture and arts.
The relevant ministries in the UAE must endorse and accredit all these professions. Apart from that, these should have their knowledge and thoughts published in well-known journals, which would lead them to be well-known in their field around the globe.
ENTREPRENEURS
Entrepreneurs play one of the most important roles in changing an economy. Since these are dependent on the success of the idea, entrepreneurs usually come up with unique ideas that succeed in the long term.
For entrepreneurs to be eligible for the Golden Visa, they need to have AED 500 thousand at least for their existing project or business. Apart from that, they can get accredited with an existing business incubator, which can support the progress of their business.
STUDENTS
It is most likely that students achieving good grades are considered to be hard working. Therefore, allowing such individuals to explore academic success in the future is a viable choice. Students achieving 95% grades or above or 3.75-grade point average upon graduation are eligible for the Golden Visa.
What Are Its Benefits?
The primary perk of having a Golden Visa is the long-term residence that you can acquire. This would allow you to enjoy your stay in the country without having to file your visa or applying for residence repeatedly.
For investors, having a Golden Visa would provide them ease of working as well as getting 100% ownership of their business. For doctors or experts from other professions, staying in the country would be easier as well as traveling to other countries without renewing their visa.
The Golden Visa for professionals, entrepreneurs, and students would provide support for their future, giving ample residency time for setting things up.
How to Apply for Golden Visa?
You can apply for the UAE Golden Visa application process only if you're among the aforementioned categories and have fulfilled the requirements. If yes, you need to visit the portal of the Federal Authority for Identity and Citizenship.
You can also apply through the website of the General Directorate of Residency and Foreigners Affairs. Websites and application forms can also be visited via mobile apps.
Golden Visa UAE Price
Those applying for the 10 year Golden Visa will have to pay AED 1,150, including application and issuance costs. For 5 year Golden Visa, you'll have to pay AED 650, including all costs.
How Can IBG Help?
IBG Consulting is one of the leading business development and set up firms in the UAE. Our experts provide a unique blend of serviceability, making you ready to apply for the Golden Visa. You can count on our team that will guide you throughout the eligibility process as well as helps you submit your application without any hassle.