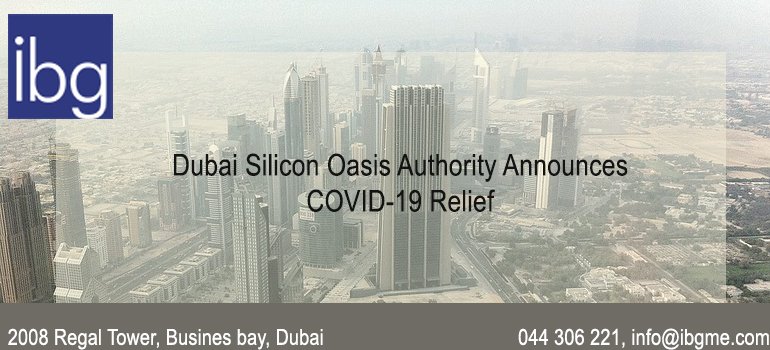 The Dubai Silicon Oasis Authority (DSOA) is a government-owned free zone in Dubai that nurtures many technologically-forward businesses and startups. The current COVID-19 pandemic has had a major negative impact on the global economy, and many businesses, including businesses within the DSOA free zone are facing a harsh impact as a result.
Hence, the DSOA has recently launched various schemes in order to facilitate businesses in Dubai that are affected by the COVID-19 pandemic and its ensuing economic crises.
The relief packages include a range of exemptions, incentives, and flexible payment plans for businesses, particularly small and medium enterprises (SMEs). Moreover, relief packages have been issued to facilitate new clients and businesses in the DSOA free zone. Here are some of the major relief packages included in the DSOA COVID-19 relief scheme.
Subsidies
The Dubai Silicon Oasis Authority (DSOS) has issued a significant amount of discounts and subsidies to businesses in Dubai. Firstly, retail outlets have been granted a discount of up to 10% on the rental value upon renewal. Businesses are entitled to an additional 5% discount if it is paid on time and in a single installment.
According to the vice chairman and CEO of Dubai Silicon Oasis Authority (DSOA), Dr. Mohammad Al Zarooni, "Reflecting our continuing support to our community and society, this move aligns with the wholehearted commitment of all economic and social sectors to the precautionary and preventive measures implemented across Dubai and the wider UAE as part of the National Sterilisation Programme".
Delayed Payments
Furthermore, start up companies at the Dubai Technology Entrepreneur Campus (Dtec) are entitled to a waiver of all payments until August 31st. At the same time, entrepreneurs and companies operating from the DSOA buildings can postpone their rent payments for the next three months, beginning from April 2020,
The Dubai Silicon Oasis Authority (DSOA) will also defer all lease payments for the next two months, and will offer flexible payment plans for the remainder of the lease subsequently after those two months.
Registration Package
The Dubai Silicon Oasis Authority (DSOA) has launched a new COVID-19 relief scheme that includes waiving of a registration package for new clients. This includes a one-time registration fee, shareholder resolution fee, specimen signature fee, trade name reservation fee, and memorandum of articles and association.
In addition, the DSOA has also agreed to waive license fees for new clients, for the first year of operations.
These relief schemes are targeted towards vulnerable businesses who may be affected by the ongoing COVID-19 pandemic and the subsequent economic crisis. These relief packages, incentives, and waivers are meant to help put off major negative impacts and business struggles.
IBG Consulting is a leading company formation consultancy agency in UAE. We recognize that these are trying times for many businesses, and are offering our specialty services for a smooth business setup and operation in UAE during these difficult times.
For more information about various relief packages and strategies to help you with successful company formation and operating amid the COVID-19 pandemic, contact us at IBG Consulting now.