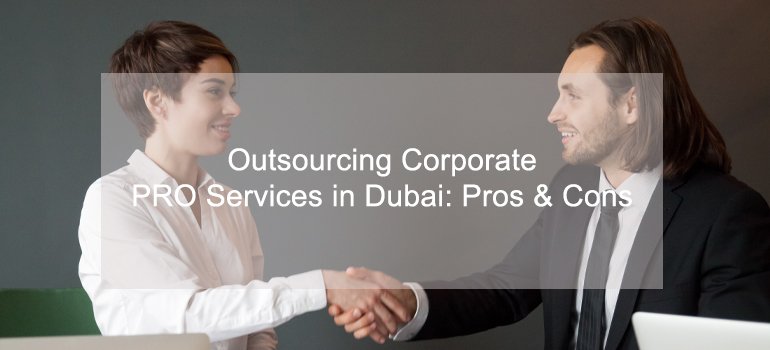 Every business set up in Dubai requires the services of a Public Relations Officer or PRO. A public relations officer provides PRO services, also known as document clearing services, in which they handle government-related documentation for the business.
Effective PRO services are necessary for business setups to develop good relations with the government and maintain a good reputation. It also facilitates the establishment of strong communication channels with the business and ensures transparency in their business activities and documentation.
Hence, having expert document clearing services can help your business flourish in Dubai. For this reason, many businesses choose to outsource their document clearing services to a specialized PRO services company in Dubai.
There are many advantages of turning to an expert PRO services company in Dubai for handling all document clearing services. Here are the major benefits of outsourcing this vital service, compared with its potential disadvantages:
Pros:
Highly Experienced
A specialized PRO services company in Dubai will provide you with a highly experienced Public Relations Officer team. They will be knowledgeable and up-to-date with the latest government requirements, hence your documents will be completed effectively, smoothly, and correctly.
Avoid Missing Deadlines
Managing your entire business is hectic itself. As a result, you often forget about filing the latest documentation. However, with a specialized company, you will no longer have to worry about missing deadlines and paying late fines. The specialized PRO services agents will ensure your documentation is completed on time.
Time-Saving
By leaving the document completion and filing tasks to a specialist agency, you will no longer have to spend long hours worrying about completing the latest document requirement. Instead, you will save more time to focus on actually managing your business.
Creates Good Business Reputation
An expert PRO services company will complete your documents and submit them to the relevant government office on a timely basis. Moreover, the document clearing services will be completed effectively and with no errors. This will help your business create a good reputation as responsible, effective, and transparent.
Cons
Cost of Hiring
Many new business startups are hesitant to hire an expert document clearing services agency, as they believe it is too expensive. In reality, the cost of hiring an agency for your PRO services is not only reasonable but can also be majorly cost-saving in the long run as you will not have to worry about paying hefty late fines.
Transparency Concerns
Another perceived disadvantage is a lack of transparency. Some business startups believe that if they leave the responsibility of government documentation to an outsourced company, then they will be left out of the loop with the latest government requirements. However, a professional PRO services company will ensure complete transparency throughout each process, by providing receipts and letters, and by giving frequent follow-ups and updates.
Therefore, the advantages of outsourcing corporate PRO services in Dubai far outweigh the cons. A specialized company will effectively handle all the document clearing services for your business set up, taking all the worry and frustration out of the process.
IBG Consulting is a leading business set up company in UAE. We specialize in all PRO services in Dubai. Hence, we can manage all the document clearance services for your business set up in a transparent, cost-effective, and reliable manner.