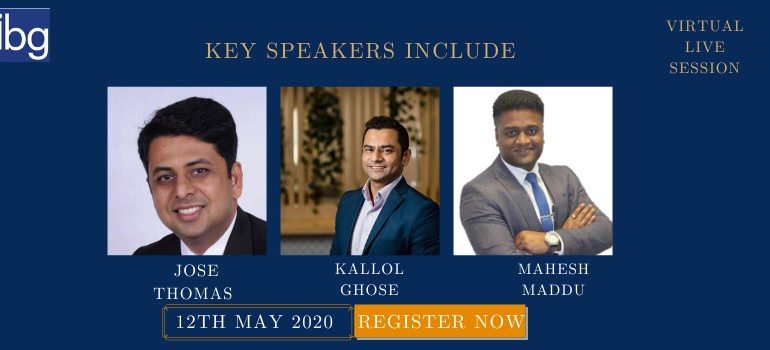 IBG Consulting Offers Help to UAE-Based Businesses Amid COVID-19 Pandemic
"How to Steer Your UAE Business Under the Global Pandemic of Covid 19" Webinar for Business Owners
Date: Tuesday, 12th May, 2020
Time: 11:00AM Gulf Standard Time
Dubai, UAE – Specialist business set-up company, IBG Consulting, is extending its advice and expertise to struggling UAE-based business amid the ongoing COVID-19 pandemic in the form of a webinar event titled "How to Steer Your UAE Business Under the Global Pandemic of COVID-19". The webinar event will be held on Zoom and YouTube Live on 12th May, 2020, at 11:00AM Gulf Standard Time.
Agenda
There are two major points on the agenda for this webinar event:
How to make the best financial decisions during the pandemic of COVID-19?
Future of UAE financial market and its impact on Global Economy.
The agenda aims to concisely cover major points businesses require to effectively navigate their way throughout the ongoing pandemic, and to offer expert advice and insight needed for UAE-businesses to keep their organizations financially afloat. Expert speakers will also discuss the one thing on every business owners mind – the future of the UAE financial market economy.
In addition to the major agenda, the following points will also be covered in the webinar:
Wide range of business activities available on the same business licensce
All company documents issued within days
100% foreign ownership permitted
Shareholders are not required to be physically present in the UAE to incorporate a new company
Ability to appoint Corporate Directors and Corporate Managers for your company
100% repatriation of capital and profits
0% corporate or personal income tax
Speakers
For the IBG Consulting "How to Steer Your UAE Business Under the Global Pandemic of COVID-19" webinar, the company is enlisting UAE business experts who can lend their advice, knowledge, and expertise to viewers. The main speakers are:
Jose Thomas – Financial Consultant
Mahesh Maddu – Senior Business Consultant UAE
Kallol Ghose – Sr Rep Sharjah Freezone (SHAMS)
These knowledgeable speakers will lead the online event and provide vital information to viewers. Moreover, there will be a Q&A session at the end, providing an opportunity to interact with the speakers.
Register Now: https://us02web.zoom.us/webinar/register/WN_Dg8AxBBPR1SKwq1r1JZ1UQ
About IBG Consulting
Established in 2013, IBG Consulting is among UAE's leading company formation consultancies. IBG Consultancy is dedicated to providing end-to-end solutions for mainland, offshore, and free zone business set ups in UAE. For more information, visit https://ibgme.ae/ or contact at info@ibgme.com.