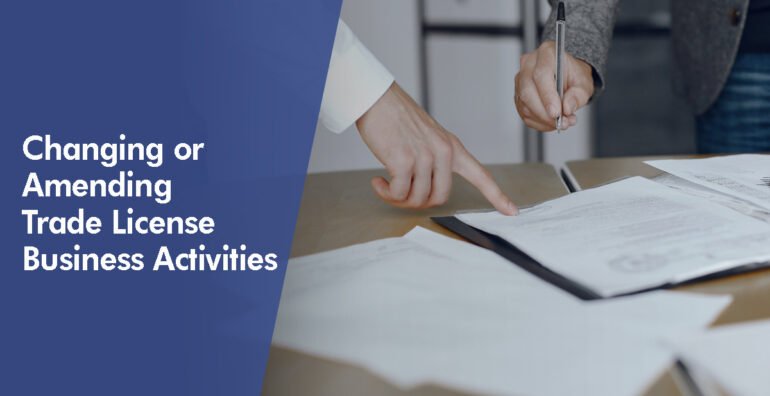 Starting a business in Dubai is a continuous process, yet it is straightforward and detailed. It often starts with choosing the right authority, legal entity, license, and most fit activities for your company, to follow the jurisdiction's regulations and keeping your company within the grounds of the legal framework.
Trade License Activities in Dubai, in particular, are often a wide range of specific business pursuits that would need to be carefully crafted and chosen to fit your exact business plan. Often, you will be required to choose at least one (1) business activity, depending on the license applicable for you.
However, as time goes by, as you continue to learn about your business and Dubai's economic environment, sometimes you may need to change these activities. Thankfully, Dubai allows you to add, change, or withdraw your previously chosen activities for your trade license.
To add, change, or withdraw your license, here are the things you should know:
● You will need to apply for a License Amendment. It is the process of revising your previously set inclusions and options for your current license package. You may undergo License Amendment during the time of License Renewal. Aside from adjusting your business activities, other alteration applicable for License Amendment include the following:
○ Changing of trade name
○ Changing of business location
○ Changing of local sponsor (for mainland companies)
○ Changing or adding of management details
○ Adding or removing of partner/s
○ Changing of authorized capital
● You cannot choose a business activity that does not match your trade license. Activities are categorized based on their nature of activity. To successfully change your previously set activities with your authority, you must choose an activity that matches your current license. Else, you will need to apply a new license application.
● Each authority has its own regulations when undergoing the license amendment process. While all allows changes in your licenses, each has a unique way of permitting this process for investors. Some are not strict, while others allow minimal changes only.
● Some activities need third-party approvals. Business activities focused on food services, chemical manufacturing, construction and architecture, health services are just some of the sectors which are required to be checked and regulated by authorities due to their inevitable nature. There is a possibility that some of your new activities, aside from the approval of your authority, may require approval from a different regulatory body.
1. The first step would be to prepare needed documents for the said process. As per DMCC regulations, you will need to prepare the following:
a. Accomplished Renewal and Amendment Form
b. Board Resolution of Corporate Shareholder (if any)
c. Board Resolution issued by the Parent Company (for branches)
d. Certificate of Incumbency (for companies with corporate shareholders or branches)
e. Shareholder's Resolution
f. Joint Shareholder's Resolution (for Joint Venture Companies)
g. Power of Attorney (if needed)
h. Memorandum (if needed)
i. Articles of Association (if needed)
On the other hand, Dubai DED requires additional documents such as:
a. Trade License
b. Commercial Register
c. Partner's List
d. NOC from sponsor
e. Addendum to Memorandum of Association
f. Passport and visa copies of shareholders
g. Emirates ID of shareholders (if resident)
2. Optional step: Get the approval of the Regulatory Authority of your new activity.
3. Once all needed documents are secured, proceed to the nearest service center of your authority and pay the applicable fee. In DMCC, License Amendment costs AED3000 plus Activity Fee of AED1515. Meanwhile, Dubai DED requires AED500 for the License Amendment Fee and AED20 for the Knowledge and Innovation Fee, also depending on the voucher. These fees might change anytime without prior notice. On average, the process takes 2-3 days for both authorities.
License Amendment and other License-Related services in the UAE can sometimes be a long, tedious process. IBG Consulting, through its years of experience in assisting investors in getting their Trade License in Dubai as well as other corporate services, offers its help in fulfilling your needs in running a business in the UAE.
We are a team of skilled individuals equipped with enough knowledge and reach that will benefit your growing business in the UAE. To know more about our services, contact us today.