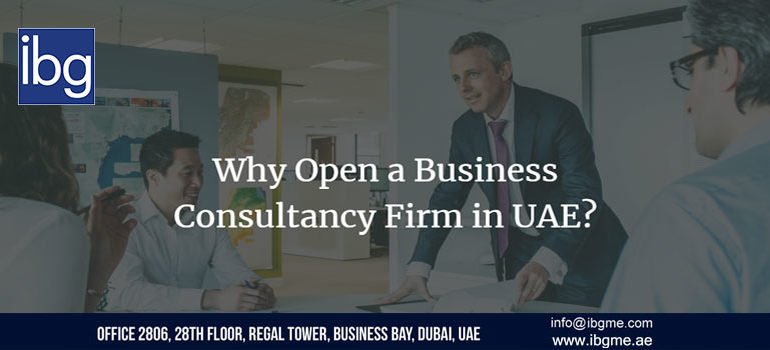 With numerous economic diversification projects in the pipeline and many expected to be completed this year, infrastructure growth is going to be one of the major growth drivers for UAE's economy as the year 2018 unfolds.
Other factors such as UAE's pro-business policies, unparalleled tax exemptions, specialized incentives and world-class facilities have propelled UAE into an international powerhouse for businesses setup in Dubai and other emirates. Today we will take a closer look at consulting firms and what an investor needs to know before starting a consulting firm in UAE.
Why Consultancy Set Up?
The UAE along with KSA is one of the leading geographies in the middle east for consulting companies. While the prospects for any business set up in UAE are abundant, Consulting remains a very attractive and in-demand sector as clients in UAE are aiming to achieve exponential growth in a short time span and a limited talent pool. This is the perfect market condition for consulting firms to thrive in. Along with the leading business sectors like Oil & Gas, financial services, business services and medical care, consulting services offers unlimited potential for investors.
What is Business Consulting?
Business Consulting services are an essential part of any developed economy and their reach and impact extends across industries such as finance, real estate, hospitality, company formation, technology, engineering and other in-demand sectors that hold a high value in the global market. A consulting company has a team of in-house subject matter experts who guide their clients and turn around the required tasks related to that subject or area of operations.
Various options available for Consultancy business setup
The consultancy market in UAE is very attractive for potential investors due to the low entry barriers in this space. Starting with business setups costs which are on the lower side and various options of areas to start a consulting business, consulting company formation is feasible and has huge potential.
Consultancy firms can be setup in freezone or have an LLC company setup in Dubai or other emirates in UAE. Various free zones such as Sharjah Media City, Creative City Fujairah, Ajman freezone and Umm Al Quwain freezone offer options for consultancy business licenses. In Dubai, along with free zones such as Dubai South and DMCC, an investor can also obtain a consultancy business license from Dubai Economic Department and setup a mainland LLC business. The stakeholders must also possess accredited certifications related to the business activity to secure approvals from Knowledge Department of Dubai.
Why Choose a Professional Business Consultant?
As technology evolves and redefines market avenues, several new business activities entering the UAE market require expert counsel of locally established consultants with qualified experience. Business consultancy firms guide investors, SMEs and MNCs through every stage of the company setup process by helping through licensing, documentation, government approvals, and office space provisions. Today, opening a consulting firm in UAE equals to a vast client base with stable profits and incentives for growth.
How Can IBGME Help?
However, Company registration for consultancy firms can create several complexities if improperly processed. As a 3600 business solutions agency, IBG understands every step of the process to guide consultancy company set ups with affordable and tailored packages in UAE. We share our years of experience with clients so their business can take on their operations from day 1 and get the best exposure around the world. Visit our website to learn more about IBGME business consultancy setup solutions