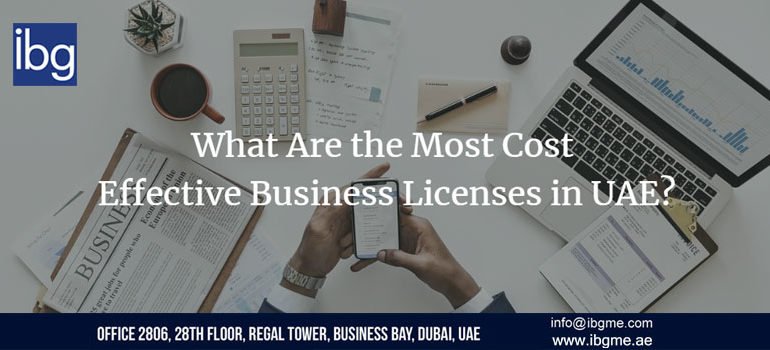 Among the many factors that decide the ultimate success of a business venture in UAE, the right activity, and business setup cost play a significant role in the company's incorporation well as post-setup phase.
All business licenses issued by the UAE government are administered by specialized authorities that provide jurisdictions to practice specific activities. While each license allows a distinct set of advantages to its owner, its benefits are often balanced against the cost it demands from the investor.
Here are 5 top trending licenses expat investors and professionals opt to start their businesses in UAE.
Holding Company in SHAMS
Sharjah Media City's incredibly plain sailing two-step setup process has made it hugely popular among foreign investors. The advantages include personal and corporate tax exemption, no minimum share capital requirements, no restriction on currency exchange, financial discretion, top-class office space provisions and impervious asset protection. Opening a Holding Company in SHAMS is a worthwhile solution to establish a corporate footprint in UAE, centralize and optimize business operations, effectively distribute monetary resources while minimizing the risks of shareholders by allowing the Holding entity to purchase shares of multiple companies. SHAMS Holding company cost starts from AED 8,000 with no-visa allocation attached.
E-Commerce License in AFZA
With the rising global e-commerce trends, each year thousands of emerging entrepreneurs, SMEs, and Large Scale Enterprises tap into UAE and GCC's growing e-commerce segment. Relatively new to UAE, zones such as Ajman Free Zone Authority (AFZA) store a great opportunity for expats to register e-commerce license and leverage from the potential growth of electronic trading activities between B2C as well B2B prospects in local and international markets.
UAE supports a vibrant economic atmosphere for e-commerce, with reportedly over 42% population actively engaged in online transactions. AFZA maintains lucrative setup platform for e-commerce companies, complemented by prudent business regulations, affordable licensing cost (starting from
AED 18,000 only), top-tier infrastructure and value-added facilities such as registering through e-services and access to international banking. In 2016 alone, AFZA announced a 35% rise in the number of
e-commerce licenses issued to a mix of regional and global digital companies.
Freelancer License in Creative City Fujairah
Formed in 2007, Creative City currently ranks in UAE's the most progressive Free Zones. Creative City Fujairah's Freelancer permit is a great opportunity for foreign investors to open a freelance office or work as a freelance professional in a range of activities offered by the authority. The application process is straightforward with minimum paperwork and issues license within 7-10 working days. The permit grants 3 Creative City Fujairah visas and allows the applicant to practice business on his/her own name. Freelancers can work from the comfort of their homes, rent an office or even subscribe for flexi-desk facilities to compensate for office space and access mail, receptionist, and meeting room services in affordable packages. Freelancer business license cost starts from around AED 14,000 onwards.
Moreover, it also acts as a stepping stone for entrepreneurs waiting for the right moment to step up the ladder and expand their operation by establishing a full-time company. Creative City allows up-gradation of freelance license to Free Zone Company License without any considerable upfront capital.
Social Media Influencer License
In efforts to professionalize and regulate the Media Industry, UAE has enacted new Electronic Media Regulations concerning the rapid growth of Social Media Influencers who earn money from promoting brands and businesses in UAE. While it may sound like a containment measure, securing a social media influencer license legitimizes the entity by giving them the freedom to command endorsements, sign partnerships and promote brands to build corporate identity across leading social media streams such as Facebook, YouTube, Instagram, Twitter, Snapchat and other popular platforms. While the license cost varies from emirate to emirate, in most jurisdictions the price starts from AED 15,000 a year, rendering this an affordable method to register as an independent content creator and start monetizing their Social Media postings and operating without this license can attract a penalty of AED 5,000. As per the latest reports more than 500 Influencer licenses have been issued in UAE after the new Electronic Media Regulations came into effect.
Freelancer License in TECOM
Another sound option for freelancers, particularly belonging to Media and Education sectors is TECOM's GoFreelance initiative, a project launched to facilitate the potential growth of freelance talent by helping them overcome financial and legal constraints in Dubai. The License is currently available only to Dubai Media City and Dubai Knowledge Park zones and will serve as an oasis for independent professionals and expat entrepreneurs to unfold their skills and talents and build a foundation of their careers in UAE. To further facilitate participation, TECOM cut the registration fee by 70%, rendering the total cost of the license to just AED 7,500 a year.
How IBG Can Help?
UAE's economy constantly evolves with the changing times and invites diverse professionals to its rich business landscape. As UAE's award-winning Business Setup Agency, IBG Consulting provides an extensive range of business licenses, including Holding Company Setup License, E-Commerce License, Freelancer License and Social Media Influencer License in all emirates of UAE. Contact our top business experts now for free consultation or leave us a query at ibgme.ae.