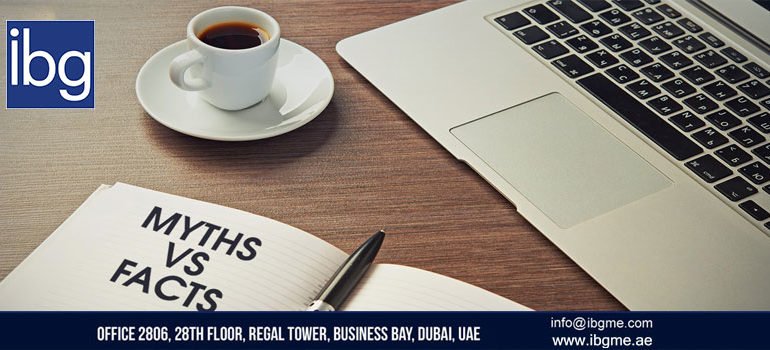 The UAE has experienced an unprecedented transformation into a modern state. From a local trading community, the UAE has reformed into a world-class destination with an open economy with one of the world's highest per capita incomes.
While UAE's fiscal forecast of 2018 is inviting businesses to invest, a mix of certain myths is also preventing potential businesses from establishing their companies in UAE. Here are 3 notorious myths dispelled by IBGME.
1) Business Setup in UAE is Very Expensive: False
Over the last decade, business setup industry in UAE has undergone a significant transition and has become more organized, diverse and mature over the years. Depending on the business requirements and financial motivation, there are different company formation packages and options available across UAE ranging from freezone company formation, offshore business setup or llc company formation at affordable price points as summed up below:
Jurisdiction
Offshore
Freezone
Onshore (Mainland)
Zones available
Ajman, RAK, Jebel Ali
From UAQ, RAK, Sharjah to Dubai freezones
Dubai LLC
Starting price
AED 10,000
AED 16,500 for Sharjah Media City freezone (SHAMS company formation)
AED 60,000 for DMCC, Dubai freezone company setup
AED 42,000 for a service license
2) Funding for Business is Extremely Difficult to Obtain in UAE: False
Investors and entrepreneurs may not need an excessive capital to open a company in UAE. With UAE's pro-investment laws, sturdy financing sector and numerous crowdfunding platforms, an average entrepreneur can easily secure around AED 35,000 in annual costs to open his/her start-up.
Most crowdfunding channels are free to use and loaded with investors in search for startups to fund. The most famous crowdfunding platform in UAE is Eureeca.
Eureeca enables members of its investor network to buy shares in growth-oriented businesses while providing operational businesses with crucial access to capital. Although the Middle East is Eureeca's flagship market, the platform exists across various economies around the world.
The ideas behind such crowdfunding platforms in the UAE is to create an international corridor of investment which can be sustained as a backbone of future business start-ups. Since crowdfunding is currently unregulated, peer-to-peer investors on such platforms have a limitless appetite for lending capital to start-ups, making it one of the fastest methods to gain a financial foothold for a venture.
The Middle East and North Africa are estimated by the World Bank to be worth about US5.6 billion in crowdfunding value by the year 2025.
3) Business Setup in UAE is Complicated: False
There are 3 basic steps involved in setting up any business in UAE
Get your Business License -> 2) Get your UAE Visa -> 3) Setup your UAE Bank Account
The timeline for these 3 steps, however, varies for each jurisdiction. It takes only 3 days to start a Dubai offshore company, a free zone business in UAE can be up and running in a couple of weeks, depending on the business activity, licensing, legal structure, business jurisdiction and office space requirements. In most cases, the timeframe is anywhere between one to three weeks unless any definite permissions or exclusive approvals from government departments or the zone authority is involved.
Free trade zones and mainland business set-up timelines also vary. While the length of the free zone company setup process depends on what free zone area the investor chooses, mainland company formation time-frame will depend on finding the right local partner, government approvals, and licenses connected to establishing the office.
How can IBG Help?
UAE currently sits at the 21st spot in the World Bank's Ease of Doing Business 2017 rankings, leaping to a clean 10-point lead from 2016's 31st position. Pro-business reforms, world-class facilities, and exceptional infrastructure is the reason entrepreneurs, SMEs and conglomerates seek UAE as an ultimate haven to start their ventures, open branches and protect their assets.
As a 3600 business solution provider, IBGME consulting masters in all type of company formations in premier and affordable packages. Setup your offshore company in Ajman, establish your free zone company in RAK or open an LLC business in Dubai, IBGME has the most experienced business consultants in Dubai for your specific requirements. You can now avail our exclusive New Year Offer and get a 30% discount on the IBG Consulting fees when you start your business in UAE in January 2018.