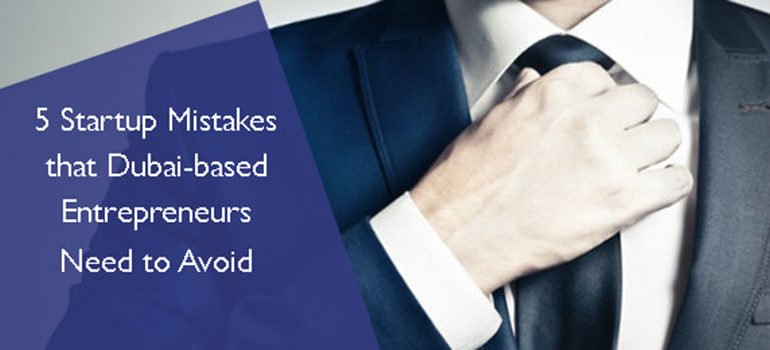 The most common mistakes to avoid during company setup in Dubai
Starting up as a tech entrepreneur can be a daunting task for both professionals and novice business enthusiasts. One step out of line can put you a few yards away from tanking. A successful entrepreneur understands that startup requires more than just passion and investment: it requires consistent pursuance and deliberate action that ensures continuity despite of the minor and major setbacks. Failure can be debilitating for even the strong hearted optimists who never fail to give all of their passion to work. To help you ensure that you don't derail, we have put together a brief list of common mistakes that can save you the pain and struggle of starting over again.
Think before you launch: Would you pluck an apple off a tree if it's not ripe yet? Of course not. Underdeveloped product is never going to deliver full results until it matures to its best form. Many young entrepreneurs make the mistake of launching business setup in Dubai before they are ready for the market. This essentially damages two things: company's credibility and longevity.
Avoid being the Captain of your Own Ship: Another gruesome mistake that sometimes does an irreparable damage is rowing your own boat. Find someone who can grab the other oar and row with you. You cannot possibly take on all the challenges and responsibilities that come with running a startup, so don't even try to do it all yourself.
Understand your Target Market: Successful business formation in Dubai requires well-defined target market. If you are not sure who will be your end-user, you are off to a really bad start. Clearly define your audience, the people you will be marketing to, and the people who will be actually paying for your product. If you don't acquire a user base in early days of your business, there is a high risk that you may not survive the competitive environment.
Invest wisely: Business ventures cost a lot of money, and if you are an entrepreneur, you probably have some money saved up. Before you go on to spend that money, make sure that you have a financial strategy in place. What are the key things that are crucial for business and require mandatory investment?
Don't put all your eggs in one basket: Investment is a crucial component of any successful business, so you cannot afford to invest haphazardly. Avoid spending all your money in the early stage of your business. Remember that there will always be expenses in the later stages that you will have to incur, so be very careful about where you put your money. If you have garnered a third-party investment, make sure that you have a clear financial plan for investing that money. Every investment needs to have an ROI, which is only possible if you invest carefully.
The above-mentioned mistakes can be easily avoided with strategic planning and focus. As a young entrepreneur, you can avoid the pitfalls that put your business at risk, and launch yourself for success. Revisit your strategic plan today to make sure that you are heading the right way.