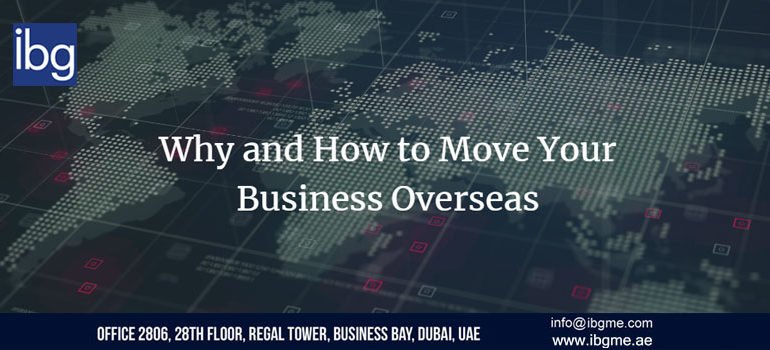 Moving the business overseas is an impressively cost-effective, secure, and profitable way to build a new business stronghold, expand territories, protect assets, reduce overheads and reach new levels in the target niche.
While each country has its own business laws, some places can prove to be a hostile environment for the business class. In such countries, investors have to continuously struggle with strict financial scrutiny, heavy taxation, corporate restrictions and a number of adverse laws. Other factors such as a stock market crunch, political instability, natural disasters and lack of infrastructure further contribute to making any investment a risky venture within national borders. This is where the investor must consider starting an overseas company.
Why Move Your Business Overseas?
For those investors still on the fence about taking their company overseas, here are 5 reasons why it is a safe bet.
Favorable Business Climate
Business hubs such as Dubai are internationally accredited for offering one of the world's soundest business climates for establishing an overseas company. Modern infrastructure, top-tier facilities, 100% foreign ownership, 100% repatriation on capital funds and profits, 100% tax exemption on personal or corporate income tax are just the appetizing benefits, to begin with. Business structures such as offshore corporations benefit from state-sanctioned legal protection, administrative and financial secrecy, and banking privileges. To attract more foreign direct investment, the UAE government also offers specialized incentives to certain sectors in its bid toward diversification of the economy.
Early Business Stability
Branching out in international lands helps the investor negate a number of harmful elements and at the same time privilege from the business-friendly environment, the host country is offering. Many young entrepreneurs who have been through the leap of faith in corporate sectors focus more on harnessing growth in early years of business. After cultivating a sound yield of success, the next stage towards stability is expanding the business parameters in a safe and secure location that allows corporate freedom and unrestricted access to funds.
Diverse Business Community
Like many business powerhouses, Dubai is also home to a highly diverse expatriate community. The foreign community in Dubai is a mix of over 200 nationalities belonging to a range of different sectors. Connecting with the international business community opens doors to several new prospects, business deals and even high-quality talent acquisitions. This allows the business to adapt to changing markets and diversify their assets to protect the company's bottom line against unforeseen events.
Superior Infrastructure
Businesses struggling with underdeveloped facilities, outdated offices and worn out equipment make an excellent case for overseas businesses set up. The metropolis of Dubai boasts the world most technologically advance and affordable infrastructure including fully serviced offices, conference rooms, business centers, warehouses, storage facilities and plants, all constructed in-line with the latest standards. Investors can purchase property with 100% foreign ownership or utilize leasing options in flexible payment plans. This enables the investor to reduce overhead costs associated with energy consumption, maintenance and lease increments while increasing work efficiency to generate higher revenues.
Access to International Markets
Another major reason why investors prefer moving their businesses to an overseas location is the unrestricted access to international markets. Dubai, for example, has one of the most highly sophisticated infrastructure, lucrative trading laws, state of the art logistical support and world's finest airports, seaports and superhighways. This makes it a vantage point for European, Middle Easters, North African (MENA), as well as South and Central Asian markets.
How to Move Your Business Overseas?
As the world gets closer, companies, enterprises, and corporations around the world are swiftly taking up roots in countries well beyond their domestic borders. Business hubs such as Dubai rank among world's most desired investment destinations due to their simple investment criterion involving minimum paperwork, low capital, swift approvals, easy visa procedure, and fast incorporation timeline. While setting up an overseas company in Dubai is quite straightforward, the margin for potential mistakes is always higher for prospects new to UAE business laws. To avoid any pitfalls, it is always recommended to seek professional help from a seasoned company formation agency present in Dubai. Hiring a Consultancy Agency in Dubai gives the investor a complete business setup solution for all kinds of jurisdictions and legal forms in affordable packages.
How IBG can Help?
As with any new venture, the overseas company formation process does take time and requires careful planning. IBG Consulting is an award-winning business solutions provider offering a range of specialized services for company set up in UAE. We take on all your requirements and ensure they are met in the fastest timeframe, minimum cost, and the highest possible standard. To get in touch, call our consultants now or visit our website ibgme.ae for more information.