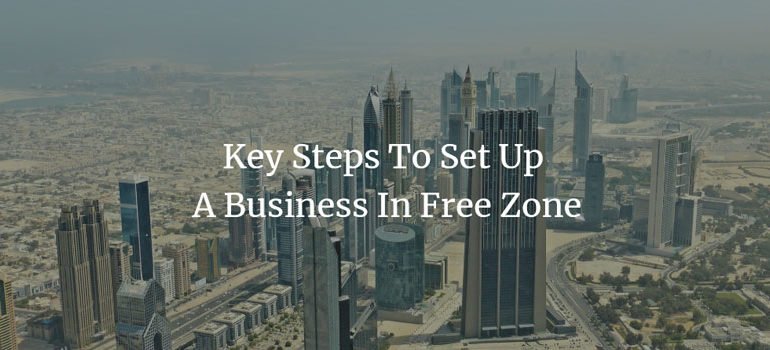 The world of now is moving towards independent business pursuit and entrepreneuring has become a celebrated decision among the fiscal mediums, starting a business in a Free zone has permitted many to take advantage of the facilitations consolidated by the state meaning, resulting abundant opportunities to aspiring business owners and gained governments more foreign investment interest.
The key steps to start a UAE FZ business are:
Select Business activity:
Choose the business field (commercial, servicecs, industrial, educational, consultancy.etc.)
Decide on the type of the legal entity of the business (New, A branch, A Subsidiary):
The foremost step is to choose the legal form of the business, between Freezone limited liability company (FZ LLC), Freezone company (FZCo), or Freezone establishment (FZE). Moreover, clarify the nature of the business as a new business, a branch for a business, or a subsidiary.
FZE is a single shareholder company, which can be incorporated in all UAE availed jurisdictions. However, FZC will be a similar incorporation with multiple shareholders (maximum 5 shareholders, or according to the regulations of the jurisdiction in question). As for A FZ-LLC, it is either 1 shareholder or multiple shareholders. FZ- LLC, its Liability is on the FZ and not on the Company or Shareholder.
Ideally, an applicant should submit the propose company names with the respective zone authority. FZ Authority needs at least 3 proposed names and give feedback if ideal name is available or NOT.
Business license matching the required business needs:
Business license will match to permitted business activities. Some of the most popular licenses are:
Commercial License (Trading Activities – specific product or general/multiple products)
Service License (Management, Marketing, Consultancy)
Industrial License (Manufacturing)
Tourism License
Educational
Media and Media services
Pick a cost-effective office space or facility:
Leasing or Buying facility spaces are two options, the validity and availability of the options relies on the Zone, type of business, license, budget and what could be the most suitable choice for the investor. Most of the zones offer flexi/smart (table and chair), shared professional high quality spaces, and Service office, Retail spaces. Many zones also offer warehouses with build in office.
Get pre-approvals, and external approvals then, finalize business registration collect the license:
Abiding by the rules of the respective free zones, in order to get the necessary approvals, certain number of documents need to be presented. The list of documents varies depending on the type of business activity, the type of company and the requirements of the free zone authority. The final chapter of registering a business in some cases could be three steps, which are A. Initial approval, B. Registration After getting initial approval, and C. Licensing and visa process. In some cases, it requires one more step between step A & B (external approval) for regulated business activity. In non-regulated will be ABC steps.
At IBG our goal is not just to rush through paperwork. We strive to add value to clients saving you time going back and forth to the free zone. We are authorized resellers for the free zones and have been working with them for a long time. We've handled hundreds of cases and are familiar with the legal structures and processes in place, and we've developed a suite of tools that makes processing faster and more efficient. IBG also has a reputation for doing a job once and doing it right — that's why 4 out of 5 clients put us on a long-term contract as trusted advisors.