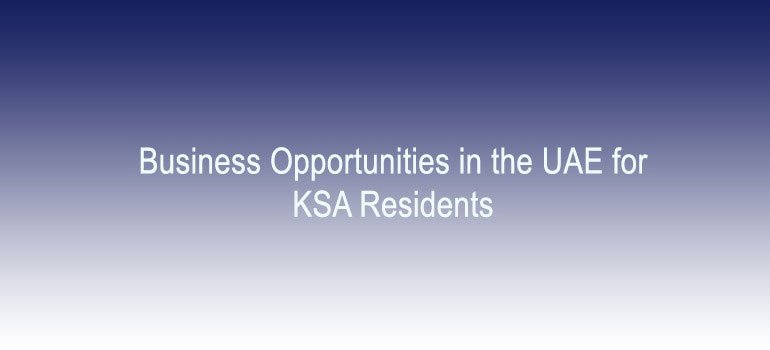 Opportunities for company formation in UAE are plentiful. It's welcoming environment and booming economy make it an ideal place for foreign business setup. In particular, UAE offers plenty of enticing opportunities for KSA residents to start their own businesses.
Both the United Arab Emirates (UAE) and the Kingdom of Saudi Arabia (KSA) are considered to be jewels of the Middle East. As two of the richest countries in the world, and both located in the Arabian Peninsula, the countries share quite a bit in common.
That being said, UAE provides exceptional company setup opportunities that are unlike any other country. Hence, there are unique business opportunities presented by UAE to residents of KSA.
Why KSA Residents are Preferring Company Formation in UAE?
Lower Tax Rate in UAE Makes Business Setup Ideal
In 2018, both UAE and KSA introduced a value-added tax (VAT) at the rate of 5%. However, Saudi Arabia has recently tripled this tax rate to 15% amid the current Coronavirus pandemic. This marks a considerably large hike in tax rates. Since UAE's VAT rate remains at 5%, it makes it a more appealing destination for business setup for KSA residents.
More Variety in Company Formation Opportunities in UAE
There are different types of company setup options in Dubai. These major types are offshore, mainland, and free zone. This means that business set up in UAE is highly flexible, as residents can find a type of business set up that suits their needs, from complete ownership to partial ownership. On the other hand, Saudi Arabia offers only the option for 100% ownership business formation.
UAE Offers Easier Company Setup Procedures
In UAE, the business setup procedures are very simple and transparent. This makes it a welcoming environment for entrepreneurs. With the help of a specialized agency for company formation in Dubai, the process is completely stress-free. On the other hand, the process is relatively more complicated in Saudi Arabia, requiring a foreign capital investment license issued Saudi Arabian General Investment Authority (SAGIA).
Business Opportunities for KSA Residents in UAE
Clearly, there are numerous reasons why residents of Saudi Arabia may prefer UAE for setting up a business. United Arab Emirates provides several business opportunities for foreign residents, which are highlighted below:
Mainland Company Setup in Dubai
The first type of business formation that UAE offers is mainland. Mainland company setup allows trade without any territorial restrictions. However, a unique feature of this type of company is that it requires the mandatory presence of a UAE national who functions as a local partner with at least 51% shareholding, or a local service agent without shares.
Offshore Company Setup in Dubai
An offshore company is an independent legal entity with limited liability and at least one shareholder. In Dubai, an offshore company allows for the business activities to be taken outside of the registered jurisdiction. In simple words, it allows business activities to take place outside of the emirate.
Free Zone Company Setup in Dubai
Dubai's free zones are a unique type of business, as it provides an opportunity for investors to practice their business in a tax-free environment, and complete ownership of the company. However, businesses must not carry out business activities outside of the free zone. There are 45 free zones in UAE offering great opportunities for foreign residents.
Therefore, there is an abundance of business opportunities in the UAE for residents of KSA. Those interested in setting up their own company in Dubai can easily do so with Saudi Arabian residency.
For more information and guidance for setting up a business in UAE as a KSA resident, contact us at IBG Consulting. We are the leading agency for company formation in UAE, and can help you easily set up and run your business in the emirates.