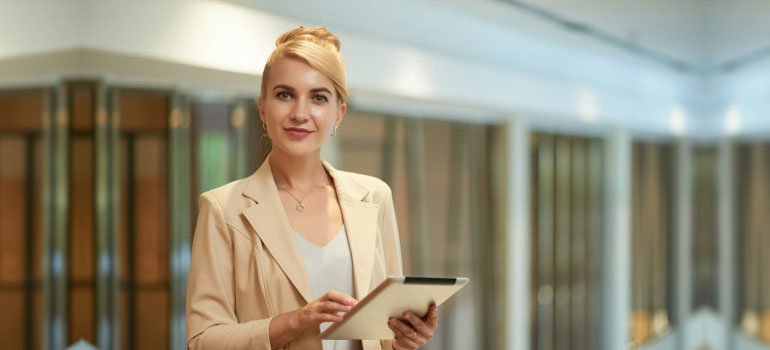 In the social strata of UAE's female population, women have always remained the backbone and an integral part of UAE's social structure and national culture. In the recent years, women have also partaken in the country's economic growth, stimulating gender parallelism and endorsing a major representation in the corporate pipeline. Thankfully, UAE's versatile culture, liberal business regime, unsophisticated investment criterion and pursuing gender equality has greatly accelerated success and satisfaction levels for women entrepreneurs in the region.
Women make up to 70% of UAE's total University graduates and 44% of UAE's labor force. From a survey taken by Global Entrepreneurship Monitor (GEM) from the year 2006 to 2016, the participation of women doing business in UAE and other entrepreneurial activities increased from 0.2 to 1.4% respectively.
Women as Entrepreneurs
Stigmatically, women, are often seen as a cohort, believed to achieve a very disproportionate amount of professional success in business sectors.
On a recent entrepreneurship survey conducted between the two genders worldwide, 87% Women entrepreneurs were adamant financial risk takers compared to 73% of men. Similarly, 80% of women voted on seeing risks as opportunities against men 67% of men. This global survey provides a realistic assessment of female participation in embracing dangers ahead and calculating risks when venturing into business startups.
SUPPORT FOR WOMEN ENTREPRENEURS IN UAE
With the growing diversity in UAE's business landscape, gender disparity in UAE has significantly diminished, making room for socioeconomic stabilization and further improving administrative quality of businesses practices.
Currently, UAE's IT and Media industry takes the lead by actuating the incubation of budding ideas within young women through government and private sector partnerships with leading organization. Such platform has served as an active solution to gender equity and propagation of egalitarianism in the business environment.
Facebook
In recent efforts to boost the involvement of female entrepreneurs in the UAE business sectors, the social media giant Facebook has launched #SheMeansBusiness (SMBs) to train and facilitate thousands women entrepreneurs on establishing their own online footprint. With the support of Emirates Foundation and Sheera Sharjah, Facebook has projected to produce 10,000 women entrepreneurs in one year to leverage their knowledge and skills towards new business avenues.
Besides, social media entrepreneurship culture has embedded deep roots between freelancers and startups, maturing into a professional knowledge-based practice that allows fast-track brand recognition, unlimited exposure, continuous engagement and a sustainable online presence.
Khalifa Fund
Among the leading organizations, the Khalifa Fund has championed a major platform for women to enter business ownerships by relaying a positive economic atmosphere for female entrepreneurs. Established in 2007, the Khalifa Fund's main focus is aiding Emirati entrepreneurs by securing funds, legal support, and other procedural assistance, thereby bridging obstacles for low budgeted SMEs and inexperienced entrepreneurs. As of right now, women entrepreneurs have been awarded 35% of SMEs projects financed by Khalifa Fund. Through its various programs, women can apply for funds depending on their specific financing needs. The Fund is subdivided into 3 programs,
Khutwa Program – Upto AED 250,000
Bedaya Program – Upto AED 3,000,000
Zeyada Program – Upto AED 5,000,000
SUCCESSFUL WOMEN ENTREPRENEURS IN UAE
Through lucrative financing schemes and world-class infrastructure, UAE has produced some of the finest women entrepreneurs the world is known to. Some of the UAE's most influential figures are as follows
Ambreen Musa
At the mere age of 21, Amreen Musa kick-started her digital company that soon bloomed into the largest digital portal for financial services in the Middle East, known as Souqalmal.com. Host of her own radio show "Eye on the Consumer" and author of Entrepreneurial Opportunities on the Internet, Ambreen is an icon that women entrepreneurs always look upto.
Huda Kattan
Huda made her first talent breakthrough in Dubai as professional makeup artist and decided to set an aspiring example for women entrepreneurs by living in the metropolis and expanding her cosmetics line Huda Beauty. Currently, her product line is worldwide and proudly featured by fashion industry influencers such as Eva Longoria, Nicole Richie and Kim Kardashian.
Nayla Al Khaja
Founder and CEO of D-SEVEN, Nayla Al Khaja is internationally celebrated for her philanthropy and humanitarian efforts to highlight social issues, women's rights and numerous humanist themes through her filmmaking. Award winner of numerous categories and a proud entrepreneur, she is also UAE's first female director.
Alanoud Badr
The architect and founder of the fashion movement Lady Fozaza, Alanoud Badr gained international popularity and propelled to become a keynote in fashion and design industry. Working with celebrities, business moguls and royalties, Alanoud Badr has set a hallmark of achievements that UAE cherishes.
Kelly Lundberg
Kelly Lundberg ranks in UAE's most successful expat entrepreneurs of today. Kelly rose to fame after launching her first website StyleMeDivine.com in 2005 that catered a vast audience interested in web and technology events across the world.
How Can IBG Help
With the upsurge of startups among women entrepreneurs, UAE has experienced a categoric shift in business roles, inviting greater international investment from the female demographics. As UAE's 360-degree business setup agency, we offer specialized consultancy solutions for women entrepreneurs, understanding their specific needs and facilitating authentic channels to nurture and grow their business presence in UAE. Meet our consultants today or leave us a query through our website ibgme.com.